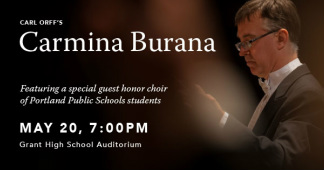 Carmina Burana
http://www.pschoir.org/performances/carmina/
May 20, 2017 Friday | Grant High School auditorium
"Experience an evening of choral excellence as the Portland Symphonic Choir hosts the first Portland High School Choir Festival at Grant High School. Featuring over 150 singers from under the direction of Dr. Steven Zopfi. This performance is sure to leave you inspired...Symphonic Choir in their production of Orff's Carmina Burana. The second half of the concert presents the Portland Symphonic Choir's performance of Carl Orff's "Carmina Burana" with visual effects including special lighting and movement. All performed in front of a sound shell designed, engineered and constructed by students in Grant High School's Audio Engineering and Theater Tech classes this year.
Featuring regionally known soloists, soprano Cameron Griffith Herbert, countertenor
Jose Luis Munoz
, and baritone Anton Belov, and performed with some of Portland's best musicians, this presentation of Orff's "Carmina Burana" will be thrilling."
Music by Carl Orff
Conducted by Dr. Steven Zopfi
Performed by Portland Symphonic Choir
Photo credit: Portland Symphonic Choir
---